Press release: See Mimir's new collaboration and live cloud production features at this year's IBC show.
IBC 2022 press release, Aug 18, 2022, Bergen, Norway:
Fonn Group company Mimir announces that it will exhibit at this year's IBC show in hall 7, stand 7.A45 (opens map in new window). The company will demonstrate the latest features of its video collaboration tool, Mimir.
Mimir is a cloud-native video collaboration tool where users can access and find content independently of its location. Artificial intelligence (AI) -assisted automatic metadata logging combined with a powerful search tool reduces the time needed to find the required content for editing projects and from video archives.
New at the IBC show are collaboration tools for sharing, commenting and reviewing, and new features for working from anywhere, such as synchronising Adobe Premiere projects in Mimir.
Debuting at the IBC show are also Mimir's new live cloud production features. With its new live features, Mimir can now control AWS Elemental Live supporting customers who want to minimise their on-premise infrastructure and save costs. Mimir also supports live transcription, adding to the extensive list of integrated artificial intelligence technologies for AI-assisted metadata logging. Mimir users can manage their live schedules with tight integration to Adobe Premiere Pro for their editing projects.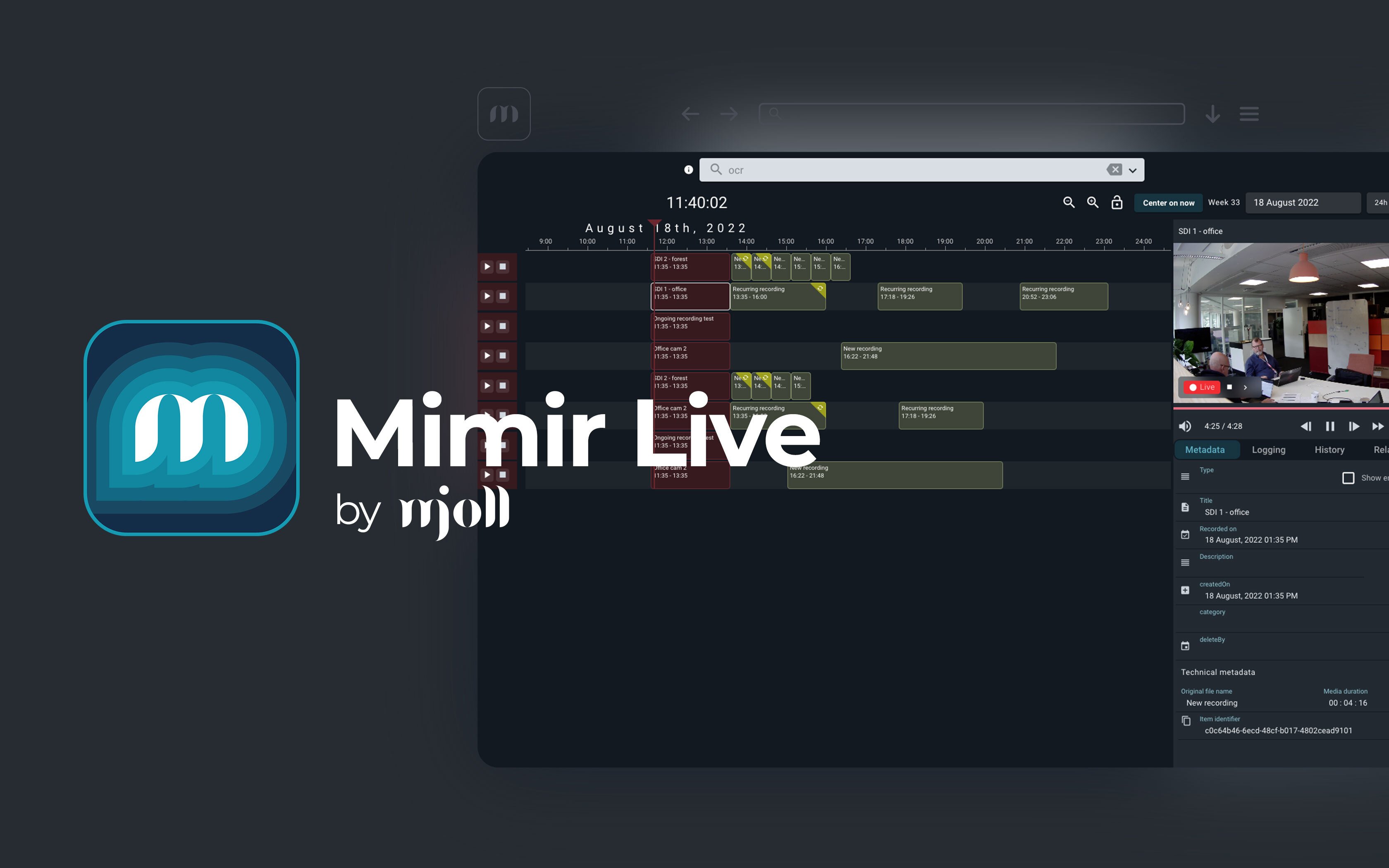 Other news for Mimir is storage on AWS Glacier Instant Retrieval for quick restore of media assets, new MOS integrations for newsroom control room systems, iFrame hosting, and further integration possibilities for creating custom panels inside Mimir.
"Mimir stands out in the market for its ease of use and quick deployment. Compared to traditional on-premise or cloud-enabled solutions, the feedback from customers is that it is effortless to get started, also for larger news and editing teams. Great collaboration tools, one tool for all, with the ability to work from any location position Mimir as a tool for anyone working with videos, images and audio", says Kristian Kim Eikeland, VP of Sales in Mimirl.
Mimir has certified a range of integration partners for Mimir. It is available through MOS, iFrame and as a panel in Adobe Premiere Pro, Avid and Cutting Room, as examples. With its open interface, Mimir is agnostic to which storage solution it connects to, as well as non-linear editing solutions and newsroom systems. Mimir also integrates with a wide range of AI technologies.
Mimir co-exhibits with its sister company Dina and will demonstrate Mimir's tight integration with story-centric newsroom tool, Dina. Visit the companies in Hall 7, stand 7.A45 (opens hall map in new window).
See available times and book your demo of Mimir in our IBC booking calendar: (the calendar for booking opens in a new window).
About Mimir
Mimir is a software company founded in Bergen, Norway, in 2019. The company is part of Fonn Group and the inventors of Mimir, a video collaboration and production tool that runs in the cloud. Broadcasters, media houses, production companies and other organisations use Mimir as their collaboration, archive and production tool. Companies such as Axel Springer, GB News, IMG, TV2 FYN, TV SYD, NEP, Sky News Australia, Screen Story, ausbiz, and TVNZ, use Mimir.
About Fonn Group
Fonn Group is a technology group headquartered in Media City Bergen, Norway, with an office in New York City. The group invests in companies delivering production and journalistic tools for the media and entertainment industry. In the Fonn Group portfolio, you find software companies Mimir and Dina, cloud workflows and integration partner Kunnusta, and Nordics professional equipment reseller and systems integrator, Mediability. Learn more about Fonn Group here.
Press contacts
Haavard Saunes Myklebust
CEO in Fonn Group


Ingrid Agasøster
Marketing Manager for Fonn Group with affiliates