Mimir wins 'Best of Show' at IBC2023 by TVBEurope.
Mimir takes home yet another prestigious award by TVBEurope, recognizing outstanding products and solutions.

Amsterdam, September 18: Mimir was honored with the prestigious 'Best of Show' award at this year's International Broadcasting Convention (IBC) by TVBEurope. See the list of winners from the TVBEurope announcement here.

Mimir has been making waves in the media and broadcast industry since its launch in 2019. Its selection by TVBEurope's panel underscores its impact and the value it brings to professionals in the video production field.
"We are thrilled to receive this honor. This award recognizes our team's hard work and dedication and confirms that we are on the right track in providing innovative solutions to the industry," said Steinar Søreide, CTO of Mimir (to the left in below image).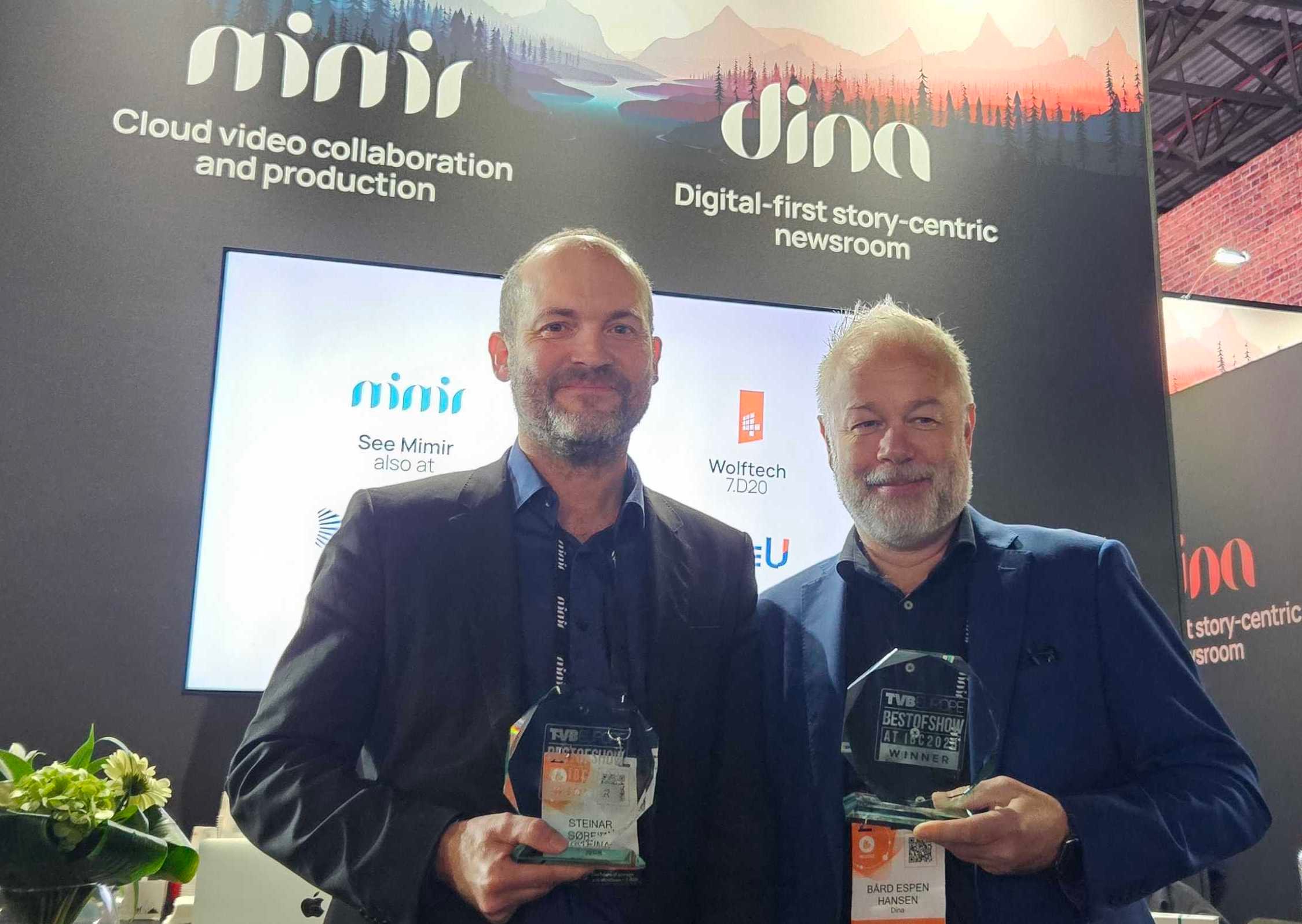 Mimir's sister company, Dina, also received a Best of Show at IBC2023 award. Here with representative Bård Espen Hansen.
IBC is one of the most influential events for professionals engaged in creating, managing, and delivering entertainment content. Winning the 'Best of Show' at such a prominent platform further establishes Mimir's position as a frontrunner in the industry.
The TVBEurope Awards are known for their rigorous evaluation criteria, focusing on innovation, feature set, cost efficiency, and performance. Mimir's recognition is a testament to its outstanding contribution to the future of broadcasting.
We would love to show you the capabilities of Mimir for cloud video production and collaboration, rough editing, using AI for automatic metadata logging, its live integration with LiveU, newsroom integrations, and much more. Book a demo of Mimir here.