Australian OTT provider of live and on-demand financial news
ausbiz casestudy – DiNA and Mimir at the center of the production: New Australian online channel ausbiz successfully launched in early 2020, as a continuous live service, dedicated to business and financial news.
When building the new channel, ausbiz looked for solutions that would not tie them to heavy infrastructure and installations.
They chose Sydney based Stem Media as solutions provider for their entire news production workflows. Stem Media is a content creator and technology partner of 7Mountains and Mjoll which deliver cloud based solutions for journalists and editors.
"Working with the ausbiz team from the very beginning of the design process and through to the launch of a brand new channel has been a true pleasure. ausbiz constructed two brand new studios in record time and successfully launched a dedicated streamed business channel, built with cutting edge technology and workflows" – Stem Media Director Emily Dawson.
THE TECHNICAL BRIEF
"When presented with the opportunity to build a newsroom from scratch we wanted to find intuitive, scalable platforms which would allow our journalists to focus on content, not systems" – CEO of ausbiz, Kylie Merritt
(From the project announcement. Read full article here)
The ausbiz team were looking for a setup with
As little on premise architecture as possible

A preference for cloud based, SaaS solutions to support cash flow and allow the architecture to be a flexible and scalable as possible.

Contribution, storage, story creation, clipping and distribution in the cloud with as much automation of tasks as possible

Editorial staff only; no engineering staff
The ausbiz control room and studio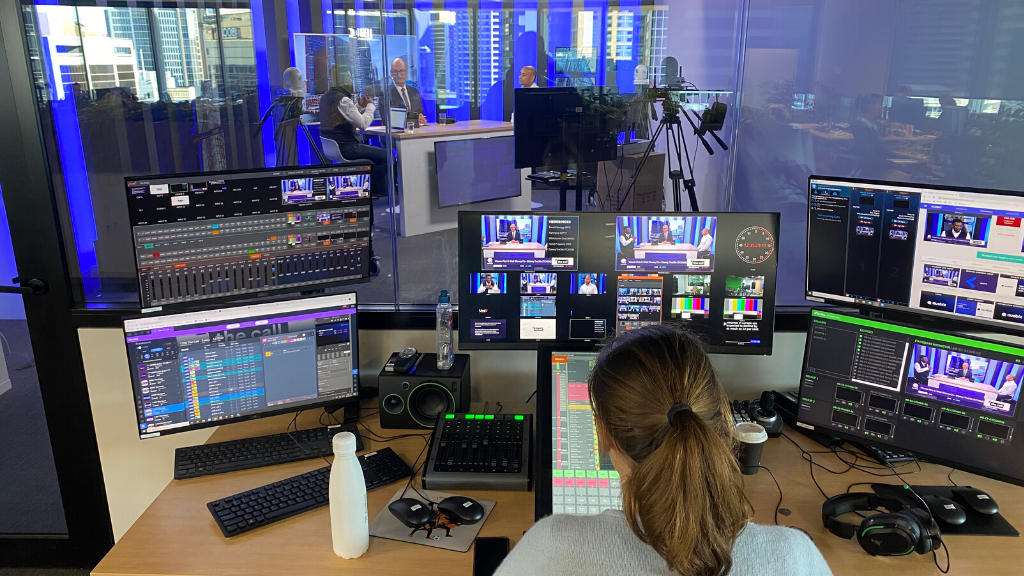 DiNA rundown in the control room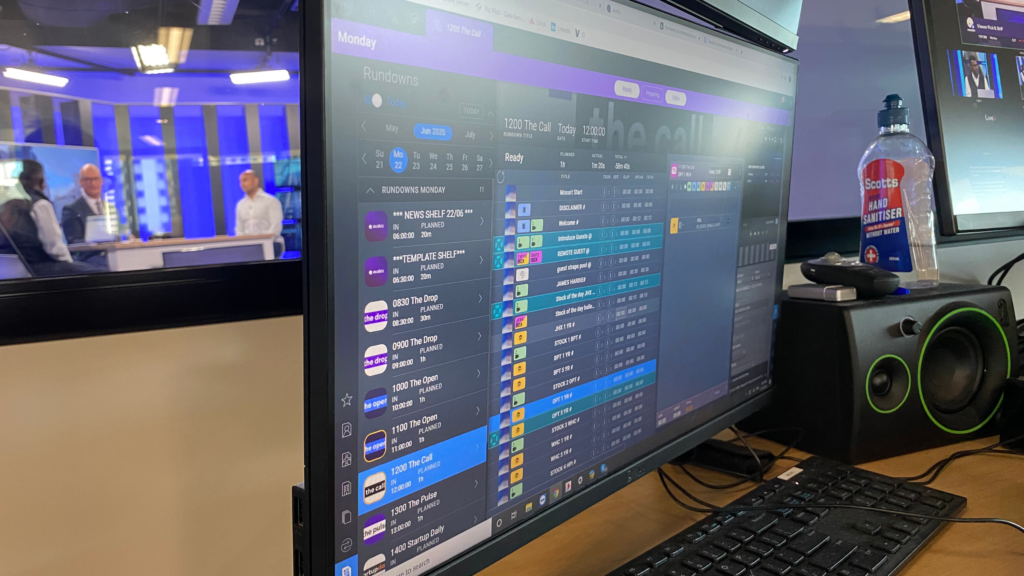 THE SOLUTION – WORKFLOW OVERVIEW WITH DINA AND MIMIR AT THE CENTER OF THE PRODUCTION
At the center of the news and video production workflows at ausbiz sits the cloud based newsroom system DiNA by 7Mountains and media management system Mimir by Mjoll.
STORY CREATION, PLANNING AND COLLABORATION WITH DINA
DiNA is the core storytelling and newsroom system at ausbiz. It is accessed via a web browser and is used by the ausbiz team to plan, create and publish linear news stories. DiNA has a rundown module and integrates with the graphics system, media management system, video editing system and studio automation system in the ausbiz workflow.
About DiNA
DiNA is a story creation, planning and collaboration tool for journalists. It is a complete cloud based newsroom system allowing users to work from anywhere with an online connection. With DiNA as the centrepiece of the newsroom, organizations avoid the costs associated with maintenance of on-premise equipment with all functions running in the cloud. DiNA has a rundown module for linear productions which is intuitive and easy to use. It can be integrated with graphics systems, automation systems, and more.
IN THE AUSBIZ WORKFLOW, DINA INTEGRATES WITH
Mimir by

Mjoll

for finding and adding videos and images to stories that are built for online, for social media channels or in a rundown.

Viz Pilot Edge by Vizrt for adding graphics to stories in their rundowns.

Viz Mosart by Vizrt for playout automation.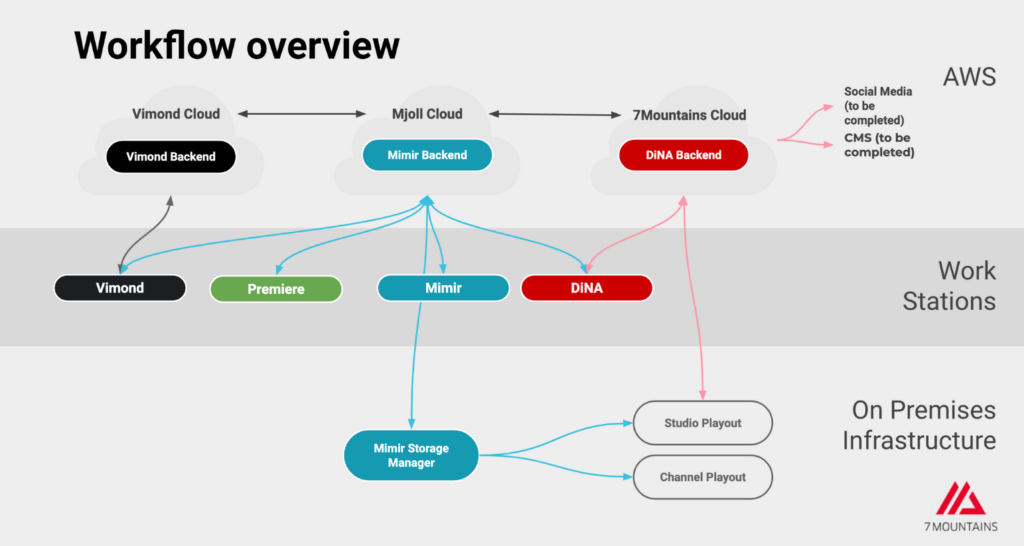 Vimond IO is now a brand under Cuttingroom
CLOUD MEDIA MANAGEMENT WITH MIMIR
Mimir is the core video production and video management system at ausbiz. It is used for ingesting videos and images to cloud storage, to find media files from archive, for advanced search, and as a subtitling tool, amongst other things.
The ausbiz team automates their metadata logging using the integrated AI services in Mimir, such as speech-to-text transcription, multi language translation, object detection, and more. Mimir is hosted inside Adobe Premiere Pro for the ausbiz craft editors and becomes the source monitor. This gives craft editors full access to all Mimir features for managing their videos, for advanced search, for proxy workflows and more.
About Mimir
Mimir is a browser based media management solution. It's a tool for journalists and video editors, or anyone working with video, for automating the boring and time-consuming tasks, such as video and image metadata logging, speech-to-text transcription, multi-language translation amongst other things.
Find the assets you need in a fast and secure way and create better stories. Mimir harnesses the power of market leading cognitive services from Amazon Web Services (AWS), Google, IBM, Microsoft and other providers.

IN THE AUSBIZ WORKFLOW, MIMIR INTEGRATES WITH
DiNA by 7Mountains for the search and for adding media to stories.

Adobe Premiere Pro for the craft editing.

CuttingRoom for importing videos that have been edited /clipped.

Multiple AI services from Amazon Web Services (AWS), Google Cloud, IBM Watson, Speechmatics and others for automatic metadata logging, transcription, translations, facial recognition, location data and labels.



CRAFT EDITING WORKFLOW WITH ADOBE PREMIERE PRO AND MIMIR
For the craft editing workflow, ausbiz uses Mimir hosted within Adobe Premiere Pro. From the Mimir panel in Premiere, editors have access to all Mimir functionality for managing videos and images and for searching in transcripts, for persons, objects and events that have all automatically been logged by the AI services.
Editors can choose to work with proxy files or high resolution material. With proxy the workflow files are 1-2% of original size and combining this with a central conform workflow, ausbiz has the ability to avoid expensive download costs with an efficient workflow for their editing.
DiNA and Mimir user interface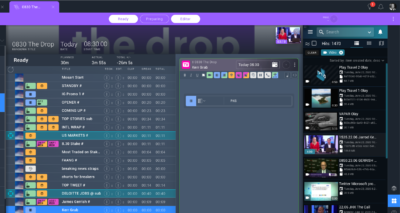 Mimir panel in Adobe Premiere Pro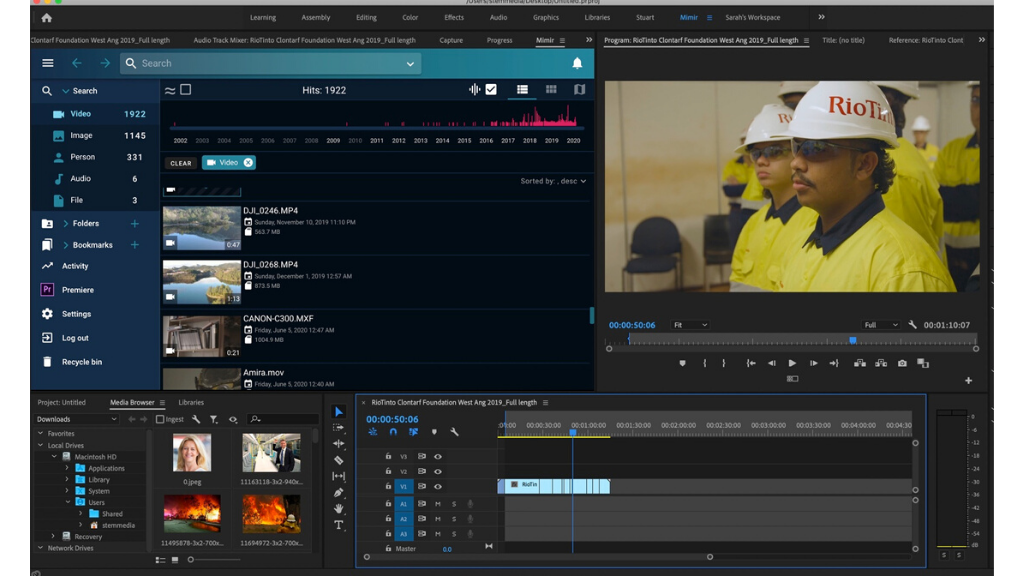 Mimir panel in CuttingRoom

CLOUD EDITING IN WITH CUTTINGROOM
ausbiz uses CuttingRoom as their cloud-based clipping system. It runs in a browser and the ausbiz editors use it for creating video clips with CuttingRoom Live or Mimir as sources.
Clips are transferred to Mimir via an integrated export module.
About CuttingRoom
CuttingRoom is a cloud-native editing solution. It requires no local software or remote connection and is easy to implement to existing workflows. CuttingRoom integrates with Mimir for editing clips from and exporting edited stories back into the Mimir cloud media management system.
RUNDOWS, GRAPHICS AND AUTOMATION
DiNA has a built-in rundown module for live linear content which integrates with graphics system Viz Pilot Edge and with studio automation system Viz Mosart, by Vizrt.
Viz Mosart integrates with DiNA and allows ausbiz to add automation commands to linear rundowns.
Vizrt provides the live graphics system with producers using graphics templates to build their daily bulletins.
About Viz Pilot Edge and Viz Mosart
Viz Pilot Edge is an HTML5 based newsroom component for journalists. It is a web application that can be embedded in newsroom systems, like DiNA.
Viz Mosart is a solution for control room automation. It controls all major brands of devices that are normally found inside a control room.
Ausbiz has chosen solutions from BirdDog and NewTek for their IP infrastructure. BirdDog P200 is used as their studio cameras and BirdDog Comms as their intercom solution. To bring external callers from Skype into their studio, ausbiz uses NewTek Talkshow.
With this setup they have full NDI workflow. Combined with cloud based solution for content creation, media management and publishing. The ausbiz team has chosen workflows that are forward thinking, scalable and flexible.
Read more about how ausbiz captures the market with NDI in this interview with Founder and Director, Kylie Merritt, by Content+Technologuy: ANZ April 2020 issue
SYSTEM ARCHITECTURE, DESIGN AND INSTALLATION BY MEDIABILITY AND AMBER TECHNOLOGY
Mediability delivered the system architecture for ausbiz in close collaboration with Amber Technology, which completed the physical instal and design.
Mediability delivers systems architecture, design reports, integration modules, applications for multi platform publishing and more. Learn more about Mediability here.
Amber Technology is a leading distributor of audio-visual solutions for all types of installation projects in Australia and New Zealand. Learn more about Amber Technology here.
ausbiz website with player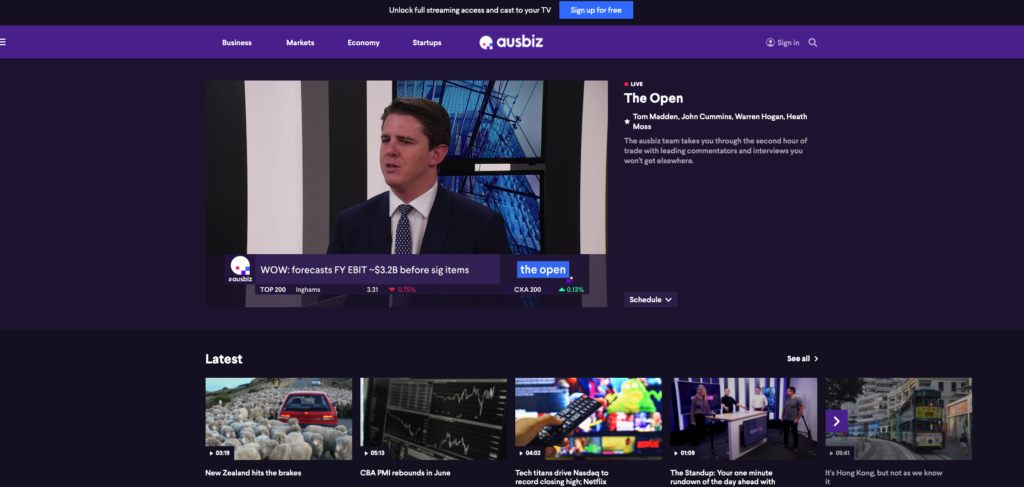 One of the next steps for ausbiz now is to use DiNA for multiplatform story creation and publishing. DiNA can be used for creating stories for linear via its rundown module, but also has multi-platform publishing capabilities.
Integration of the ausbiz CMS will come in phase two of the project as well as publishing to social media platforms meaning that all creation and publishing will be done without journalists ever leaving the DiNA interface and allowing for and overview publishing strategies at a glance.
For more information about the project please contact Stem Media. See contact information here.